November, 2000
Silver Springs
Originally from Moments by Valerie, a collection of memories (1961-1983), written in 1986 and presented to Larry on their first anniversary.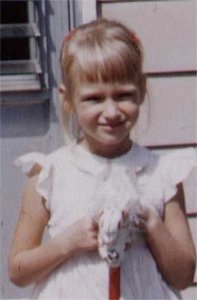 Valerie with stick horse,
Aug., 1963, Illinois.

One of our earliest kayak trips took place when my sister and I kayaked the Silver River in Florida into the famous Silver Springs (home of the first glass-bottomed boats). We started several miles downstream at a roadside picnic area and maneuvered our way up in the fast, clear, deep water. Luckily, the river wound around a lot, giving us frequent breaks from the strong current. We neared the springs just as the park was closing. There was so much to see! Along the shore were Rhesus macaques, left from the days of Tarzan movie-making, as well as turtles, alligators, and beautiful wading birds. We paddled into a fenced area, accidentally tripping an electric eye which produced a raucous Tarzan yell and lured dozens of monkeys to the bank, where the tour boats no doubt always fed them. We were suddenly surrounded by giraffes, camels, zebras, and an ostrich.

The formal gardens around the springs were lush with brilliant tropical plants and the tall trees were draped in Spanish moss. By far, the most amazing thing was the water itself. This spring is one of the largest in the world and we were flying above 20 to 50 feet of clear turquoise glass, with bubbling sands and churning waters far below. Midway swam turtles and huge schools of fish, including giant bass, catfish and gar. We stayed until almost dark, enjoying the splendors, then were treated to a swift, easy return down the river.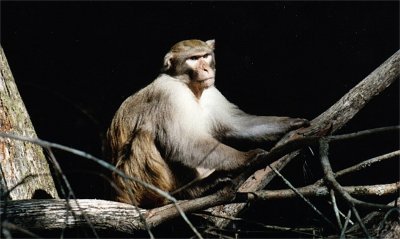 One of the Silver River macaques, photo taken by Val from a kayak.