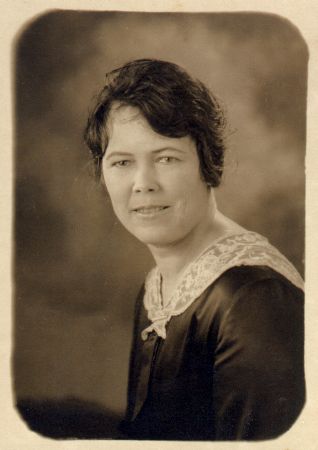 Our lens opens for this issue on Larry's paternal grandmother, Mama Pearl (Leon's mother). The picture was probably taken in 1911 a little after she had graduated from college and about when she had gotten married to Papa Frank (Leon's father). Frank and Pearl's first child, Leon, was born the following year in Straight Creek, KY. (Larry remembers a side trip, in early 1955 he thinks, when his young birth family of Leon, Julia, he, Jeanine, and John were in route by car to Leon's new duty station in Sampson, NY. Leon was trying to show them all the home where Frank, Pearl, and then infant Leon had lived after he had begun life, but could not locate it. He had speculated aloud that maybe it had burned down.) Mama Pearl had been a teacher before her marriage. Papa Frank's career included teaching and preaching. From several congregations, he helped raise money for and construct Nazarene Church buildings in different parts of the country. His avocation was music, and he easily learned to play various instruments. He made most of his money, though, through investing. The family was still poor through the Great Depression, but he managed to save about half of a meager church income and invest it in common stocks. Mama Pearl did not teach after they had married but stayed busy with the children (Leon, Lucile, Mabel, and Wilma [who died at age five of congestive heart failure] and assisting Papa Frank with church-related activities, such as socials, Sunday School, and music. She played well both piano and organ and sang in the choirs, having a fine voice. She also had a good sense of humor, which no doubt served her well during some of the vicissitudes of early family life, when the budget was quite small, Papa Frank was strict about it, and she could only afford a nickel a week when the church collection plate was passed. Later, Papa Frank's estate was over a million dollars, back when that was a lot of money.

When learning that your editors would be publishing the photo of Mama Pearl, Julia kindly provided the following supplement to the picture's caption: "Mama Pearl lived in Ark., but I don't remember the town. She had one year of preparation for teaching. At that time, that is all it took to get a teaching certificate. She was eighteen when she began teaching. Sadly I don't remember just how she met the young and handsome Frank B. After marriage they moved to Straight Creek, Ky., where your dad was born April 24, 1912. They lived there only 6 months after his birth before moving to, I think, Greenville, Tx. Papa was a teacher in a high school in Ky., and years later, when we went there, we found no trace of where they had lived. Mama Pearl told me that one day Papa came in and told her he had decided to become a minister. She was surprised because she had no prior inkling that he was considering such a thing.

There was a small college in Greenvile, Tx., where he began his preparation for the ministry. Greenville was at that time a small village surrounded by wooded land. Papa would augment their small income by going out to shoot rabbits. There didn't seem to be a car at that time, so Papa would ride his bicycle to do the shopping for the family. Years later, your Dad told me that he would go to several shops looking for the best bargains. Since the fattier meat was the cheapest, that is what he bought. Your Dad had an aversion to fat, and I learned to cut any off before it was served at our table.

Later Papa went to Peniel,Tx., where he graduated from a Nazarene school. They were living in Greenville when their daughter, Wilma, died.

I do not remember all the various places they lived. It wasn't long before Papa Frank, with his boundless energy and zeal, became known as a builder of churches. Somewhere in the pictures that I have saved are ones of them, in Colorado, Oklahoma, and of course Waco, Tx. It was while your Dad was helping to tear down an old Nazarene Church in Waco, and helping to build a new one, that we met.

But that, as they say, is another story."