December, 2007
Predatory Stink Bug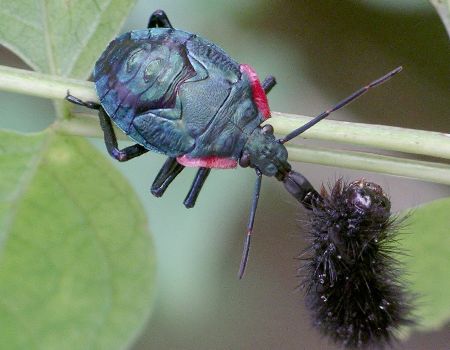 Our mild climate here in central Texas assures that even in December we may find interesting insects in our yard. That was the case with the predatory stink bug (Alcaeorrhynchus grandis) featured this month. On a day when the temperature didn't get above 50°F, this hardy bug was enjoying a meal of a woolly bear caterpillar.
While A. grandis does not have a common name, it is still a very impressive insect. The image above shows a nymph, which looks quite different from the adult, the largest predatory stink bug in this area. A. grandis is a member of the stink bug family, or Pentatomidae, in the order Hemiptera, or true bugs. All insects in that order feed by using a segmented proboscis, which works like a straw to suck up liquids. While many feed on plant juices, a good number also use the same apparatus to feed on other insects. Within the stink bugs, there is a whole sub-group that is predatory, and therefore considered beneficial as they favor caterpillars and other plant-damaging insects.
This species has a very unusual trait for a predator: older individuals tend to remain clustered together with younger ones. Many predatory insects disperse as soon as they hatch out of eggs because they will eat each other if given the chance. A. grandis, on the other hand, remains in groups, with older nymphs or adults hovering over the tightly grouped younger bugs. They sometimes even feed together on the same caterpillar. Their warning colors of red and black are a more effective deterrent to their own predators when they are in a larger group than they would be singly. The nymphs do eventually go their own ways once they are larger, especially if prey becomes scarce, such as it would be late in the season, and they must wander further to find food.